Supporting decision making with patients
We have a range of resources for patients and for osteopaths. These resources can support osteopaths and patients to make decisions about care together, taking into account what is important to each of them.
The resources were co-produced with patients and healthcare practitioners, including osteopaths, as part of a collaborative research programme with the General Dental Council and the Collaborating Centre for Values Based Practice in St Catherine's College, Oxford.
The aim of these resources is to support successful consultations between patients and osteopaths by helping both to listen and communicate their individual preferences, beliefs and values to each other.
To download the resources for free, please click on the images below. If you would like a copy of the resources in either Welsh or larger font format, please email info@osteopathy.org.uk or call us on +44 (0) 20 7357 6655 x242
Resource for osteopaths
The following resource can be used by osteopaths: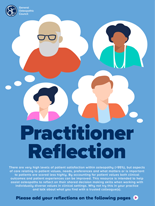 Practitioner Reflection form
This form will help osteopaths to rate their own perceptions of the patient care they provide using the CARE measure.
Resources for patients
Resources that osteopaths can share with their patients include: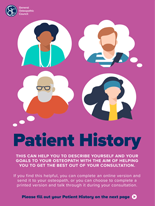 Patient History form
This form enables patients – particularly those with long-term conditions – to present their history in a way that is meaningful to them, including information about their condition and also their life and what they do. This form can help patients make clear to practitioners what they want and need from their consultation.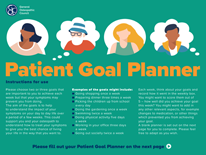 Patient Goal Planner
This planner enables patients to identify their goals (for example, picking up children from school, doing the gardening, going swimming once a week, and being able to work without taking too much time on sick leave) and then to track over time how their symptoms or condition are affecting those goals.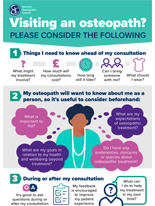 Patient leaflet/poster
This leaflet can be sent to the patient in advance of their appointment to help them to think about their goals for their treatment and what they would like to get out of the consultation. It can also be displayed in poster format in the clinic reception area as a prompt for patients.
How osteopaths can use the shared decision making resources in practice
Simeon London, osteopath member of the GOsC Council, shares how he uses the resources in practice. Click on the video below to watch the presentation.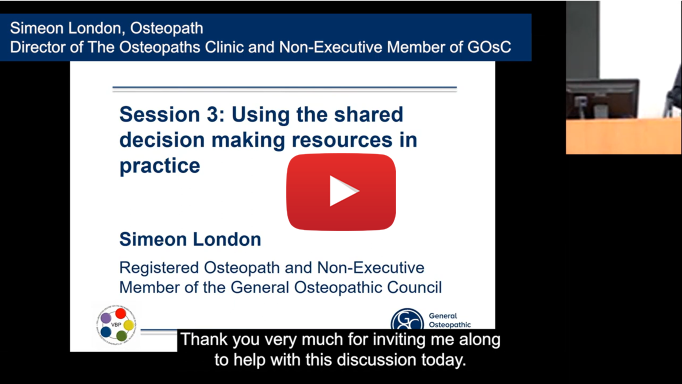 This video was filmed at the 'Making shared decision making a reality workshop' held in November 2022. The workshop explored the benefits and importance of shared decision making to both practitioners and patients as well as the challenges in making shared decision making a reality in consultations.
Further videos from the event are available via YouTube.
'Visiting an osteopath' animation
This animation is available to watch on the GOsC YouTube channel. A link can be sent to patients before they visit an osteopath's clinic to help them prepare for their first consultation and to think about their expectations of osteopathic treatment.
Watch the video: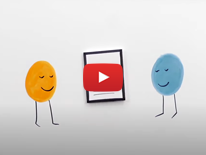 Find out more about our collaborative research programme
You can read more about the research programme during which the resources were produced in an article entitled Connecting patients, practitioners, and regulators in supporting positive experiences and processes of shared decision making (2019) which was published in the Journal of Evaluation in Clinical Practice.