Standards of practice
The Osteopathic Practice Standards are the standards required of osteopaths to ensure the quality of care that patients are entitled to receive and to protect patients from harm.
Osteopathic Practice Standards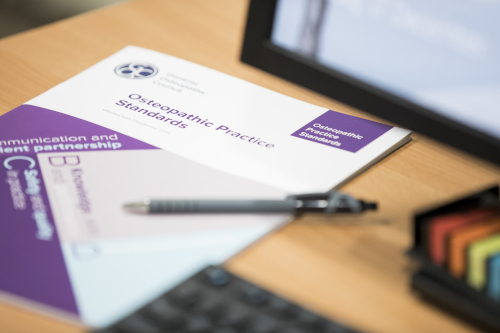 All osteopaths are provided with a printed copy of the Osteopathic Practice Standards on registration. Further printed copies may be purchased at a cost of £3.50 each, plus £1.08 postage and packing in the UK. Postage and packing for Europe is £4.30 and for the rest of the world is £4.95.
To order copies email our communications department on info@osteopathy.org.uk or telephone 020 7357 6655 x242. If you are emailing please include your name, registration number if you are an osteopath, and the address you would like the copies posted to. We will include an invoice with your order.
The Osteopathic Practice Standards are also available to download in Welsh. Mae'r Safonau Ymarfer Osteopathig 2019 ar gael yn y Gymraeg.
You can also read the Osteopathic Practice Standards on our dedicated website.
---
Continuing Professional Development Guidance (CPD scheme)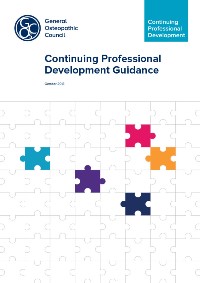 This guidance supports osteopaths in meeting the Continuing Professional Development (CPD) scheme requirements. The CPD scheme provides assurance of continuing fitness to practise for every osteopath on the statutory Register, by encouraging osteopaths to develop their practice as members of a community of learning.
There is also specific guidance on the Peer Discussion Review, a key element of the new CPD scheme.