About us
The General Osteopathic Council (GOsC) regulates the practice of osteopathy in the United Kingdom. By law, osteopaths must be registered with the GOsC in order to practise in the UK.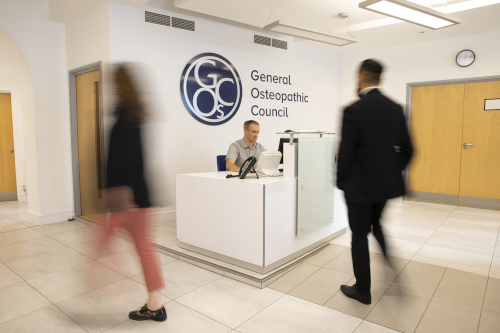 The overarching objective of the GOsC is the protection of the public. This involves the pursuit of the following objectives:
a) protecting, promoting and maintaining the health, safety and well-being of the public;
b) promoting and maintaining public confidence in the profession of osteopathy; and
c) promoting and maintaining proper professional standards and conduct for members of that profession.
What we do
Patient Involvement Forum
We are looking for osteopathic patients to join our Patient Involvement Forum and to take part in a range of activities such as focus groups, surveys and consultations so we can hear your views.
If you are interested and willing to use your unique experience to help make a difference to future osteopathic care, we would love to hear from you.
Annual Report
Our annual report provides an overview of our work over the last year. Read more
---
Feedback
We welcome comments and feedback about this website and the information on it. If you have any comments or if you have not been able to find the information you want in this section or on the website as a whole, please contact us by using the form on the Contact us page or by emailing info@osteopathy.org.uk.