Visiting an osteopath
COVID-19: Osteopaths are being advised to use their professional judgement, in discussion with patients, to determine whether face-to-face treatment is appropriate in your individual circumstances, taking into account the likely benefits and risks and they are being advised to ensure they explain these clearly so you are able to give your informed consent. If you are already a patient, you might find that the stringent infection control measures that osteopaths are advised to implement mean your experience when you next visit an osteopath is different to what you had been used to before the pandemic – for example, the osteopath may be wearing personal protective equipment (PPE), spacing out their appointments to allow time to clean the room between patients, and they may be minimising waiting times within the clinic. These measures will be aimed at keeping patients and practitioners safe as the pandemic continues, and should not affect the high levels of care that patients are entitled to expect from osteopaths.
Many osteopaths will also continue to offer remote consultations, when a face-to-face session may not be possible, or recommended, in the professional judgement of the osteopath. You should talk through any concerns you may have about attending for treatment in the light of COVID-19 with your osteopath.
You may be able to find an osteopath in your area by using the Register search. If you are unable to find an osteopath, you can seek advice for an urgent medical problem from NHS 111.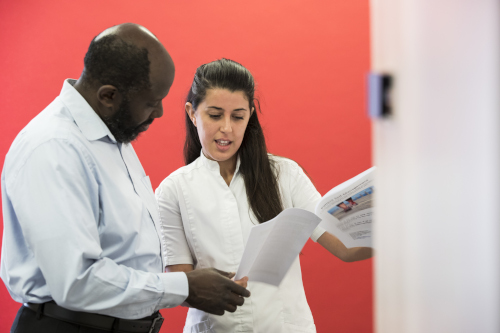 In this section, we explain what happens when you visit an osteopath, what a treatment is likely to cost and how to find a local osteopath. You can also download our leaflet 'What to expect from your osteopath'.
Before your first appointment
Check that the osteopath is registered with the General Osteopathic Council (GOsC) by checking the Register on this website which lists osteopaths by name, registration number and location, or by calling us on 020 7357 6655 x242.
Osteopathic practices should be able to provide information about the osteopath, the clinic, what the treatment involves, payment methods and anything you need to know in advance of your first visit.
At your appointment
As an osteopathic patient, you are entitled to a high standard of care. You should expect your osteopath to:
Make your care their priority
Treat you with dignity and respect
Involve you in decisions about your care
Respond promptly to your concerns
Respect and protect your private information
For more information see the page 'What to expect'.
If you have a concern or a complaint
If you have a concern about an osteopath, or about treatment you have received you are welcome to send us an enquiry using this online enquiry form. We will respond to you within five working days. For further information about talking to us about a concern or making a complaint visit our Complaints section.
Unregistered osteopathic practice is illegal
The title 'osteopath' is protected by law. It is against the law for anyone to call themselves an osteopath unless they are registered with the GOsC.
If you think someone is practising as an osteopath but is not on the Register, see our Protecting the title 'osteopath' page for information about what to do
The GOsC can, and will, prosecute people who practise as osteopaths when they are not on the GOsC Register.
Get involved
A major priority for the GOsC is to listen and learn from osteopathy patients so we want patients to be actively involved in the work we do. Here is your chance to use your unique insights and experience to help others learn and to enhance patient safety and patient care. Help us and osteopaths to understand your needs and views so that we can improve our patient information and our guidance for osteopaths. By sharing your insight, you can help us to do that.
We are looking for osteopathy patients who would be interested in taking part in any of a range of upcoming events, focus groups, surveys and consultations so we can hear your views. The only experience we require is for you to have seen an osteopath in the past 12 months. If you have a question or would like to get involved please call 020 7357 6655 x242 or email us at goscmail@osteopathy.org.uk.