Standards for continuing professional development
Osteopaths are obliged to keep their skills and knowledge up-to-date with a lifelong learning programme of continuing professional development (CPD).
This can include lectures, seminars, courses, practical sessions, individual study or other activities that can advance an osteopath's professional development.
We require all registered osteopaths to complete at least 30 hours of CPD every year, of which 15 hours must involve learning with others. This is because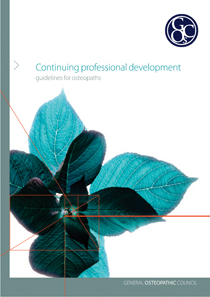 many osteopaths work on their own and group learning allows them to exchange information and expertise with other osteopaths.
There are now also postgraduate courses for osteopaths in a range of subjects, including sports care and osteopathic treatment of children.
CPD guidelines
Our Continuing professional development guidelines for osteopaths outlines the GOsC CPD scheme and explains how osteopaths can meet the scheme's requirements.
New CPD scheme
As part of our development of a continuing fitness to practise scheme we consulted on a proposed new continuing professional development scheme between February and May 2015. A report on the analysis of the responses to the CPD consultation was published in October 2015. Further news and information about the development of the new scheme will be published here as it becomes available.
CPD Discussion Document
The CPD Discussion Document looked at the purpose and structure of our CPD scheme. We consulted the osteopathic profession and other key stakeholders about the document and the CPD scheme from September 2011 to September 2012. The consultation generated 441 responses from osteopaths, other regulatory and professional bodies, patients and members of the public.
The report of the consultation results is available here. The consultation analysis was undertaken by an independent firm, Abi Masterson Consulting Limited.
Key findings included:
limited support for learning cycles
slightly more support for core CPD
support for feedback to osteopaths about their CPD
considerable support for retaining the current system of CPD, although also of note is that many more osteopaths are now using patient feedback and other similar mechanisms to inform themselves about the effectiveness of their practice.