UK health regulators
The GOsC is one of nine healthcare regulators in the UK. Each of them works to maintain high standards in their particular profession, and keeps a Register of professionals working within it. Practitioners can be registered only if they demonstrate high standards of safety and competency, and it is against the law to practise without being registered with the appropriate regulator.
The table below contains information about the regulator for each of the other healthcare professions. If you wish to learn more, or check that a healthcare professional is registered, use the links to reach the appropriate website. The UK Statutory Register of Osteopaths is available to check on this website.
Healthcare Regulators
General Chiropractic Council
Regulates chiropractors.
General Dental Council
Regulates dentists and dental therapists, dental hygienists, dental nurses, dental technicians, clinical dental technicians and orthodontic therapists.
General Medical Council
Regulates doctors.
General Optical Council
Regulates opticians, optometrists, student opticians, and optical businesses.
General Pharmaceutical Council
Regulates pharmacists, pharmacy technicians and pharmacy premises in Great Britain.
Health and Care Professions Council
Regulates 16 health and care professions: arts therapists, biomedical scientists, chiropodists, podiatrists, clinical scientists, dieticians, hearing aid dispensers, occupational therapists, operating department practitioners, orthoptists, paramedics, physiotherapists, practitioner psychologists, prosthetists and orthotists, radiographers, social workers (in England), speech and language therapists.
Nursing and Midwifery Council
Regulates nurses, midwives and specialist community public health nurses.
Pharmaceutical Society of Northern Ireland
Regulates pharmacists and pharmacy premises in Northern Ireland.
The Professional Standards Authority for Health and Social Care
The Professional Standards Authority for Health and Social Care (PSA), (formerly the Council for Healthcare Regulatory Excellence) has the role of protecting patients, promoting best practice and encouraging excellence among all the nine UK regulators of healthcare professionals. The PSA reviews the performance of all the heathcare regulators, including the GOsC, annually and publishes a performance review report on its website. It also accredits voluntary registers.
The Joint Health & Social Care Regulators' Patient & Public Involvement Group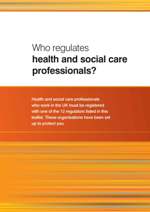 This group was set up in January 2005 and acts as a forum in which the UK health and social care regulators can share ideas and promote good practice in patient and public involvement.
Who Regulates Health and Social Care Professionals?
This information leaflet explains what regulation means and which regulatory body is responsible for monitoring each profession. It also includes contact details for each regulator. The leaflet is published by the Joint Health & Social Care Regulators' Patient and Public Involvement Group.
This leaflet is also available in Welsh.
GOsC Patient and Public Partnership Group
Our Patient and Public Partnership Group provides input into our work from osteopathic patients and interested members of the public. For information about becoming involved, visit our Patient and Public Partnership Group page.
Social care regulators
The Health and Care Professions Council regulates social workers in England. The following three organisations regulate social care in the other UK countries:
Health and social care services
Other organisations regulate the provision of health and social care services in the UK.
England
The Care Quality Commission regulates health and adult social care services provided by the NHS, local authorities, voluntary organisations and private companies in England.
Northern Ireland
The Regulation and Quality Improvement Authority monitors and inspects the availability and quality of health and social care services in Northern Ireland.
Scotland
The Care Inspectorate is the regulator of social care and social work services across Scotland. Healthcare Improvement Scotland provides advice, guidance and sets standards; supports implementation and improvement; assesses, measures and reports on the performance of NHS Scotland; and regulates independent healthcare in Scotland.
Wales
The Care and Social Services Inspectorate Wales regulates, inspects and reviews social care, early years and social services in Wales.
Healthcare Inspectorate Wales reviews, and conducts investigations into, the provision of NHS funded care either by or for Welsh NHS organisations and independent healthcare services.
Feedback
We welcome comments and feedback about this website and the information on it. If you have any comments or if you have not been able to find the information you want in this section or on the website as a whole, please contact us by using the form on the Contact us page or by emailing info@osteopathy.org.uk.