Social media
Many osteopaths use social media for personal and professional purposes and it is important to be aware of the potential pitfalls as well as the advantages.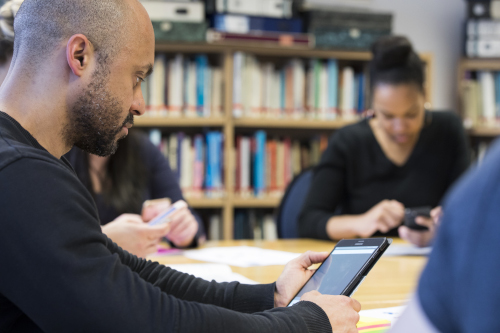 Social media are used for a variety of different purposes, personal and professional. This includes making background checks by prospective employers or, in the case of healthcare professionals, by their patients and potential patients.
The ease with which online profiles can be set up and the often confusing array of security options available to separate public from private information can sometimes create problems for people.
What do the Osteopathic Practice Standards say?
Standard D7 of the Osteopathic Practice Standards states: 'You must uphold the reputation of the profession at all times through your conduct, in and out of the workplace'. The guidance for this standard says that this may include 'maintaining the same standard of professional conduct in the online environment as would be expected elsewhere'.

As a healthcare professional, it is important to consider the impact that your personal life has on your professional life and how you portray yourself to your patients and the public.
Key principles of using social media
Increased online activity means that we are now far more exposed to public scrutiny, and professionals need to be aware of the potential dangers of this.
What is the purpose of your social media profile? You may wish to consider separating your personal account from the one you use for professional purposes to promote your practice. Do you really want your patients to see what you did at the weekend? With separate accounts, you can tailor the content and usage of the different sites to appropriate audiences.
What information can be seen publicly? The golden rule is not to say anything online that you wouldn't say directly to people in public. Everything is public on Twitter but on other platforms, such as Facebook, ensure you adjust your privacy settings or anything you say online can be easily copied and redistributed, and can be taken out of context. Even if your privacy settings are in place, someone who has access to your profile but doesn't maintain the same level of privacy can share a post of yours that could then be seen publicly.
Be careful when accepting invitations to link your profile to others. It is not appropriate for healthcare professionals to use their personal profiles to connect with current or future patients as this can often blur the boundaries between patient and professional. You wouldn't pursue inappropriate relationships in your day-to-day life and this is no different online. It would, however, be appropriate to link a professional practice profile with your patients if the sole purpose is to provide them with information about the practice.
Confidentiality. This should be maintained in the same way you would maintain confidentiality in other areas of your professional life. It is certainly not appropriate to post pictures of patients online or discuss details of patients or colleagues on your profile.
Professionalism in healthcare and the inappropriate use of social media: examples
General Dental Council fitness to practise cases
Of fitness to practise cases investigated by the General Dental Council (GDC) between 1 September 2013 and 21 June 2016, 2.4% related to breaches of the GDC social media guidelines and the most common type of complaints were inappropriate Facebook comments.
Source: Neville, P. 'Social media and professionalism: a retrospective content analysis of Fitness to Practise cases heard by the GDC concerning social media complaints', British Dental Journal, 223, 363-357, 8 September 2017; Read the abstract.
Medical students case study
A General Medical Council case study about medical students who made posts about staff and patients on social media and, as result, were subject to a fitness to practise investigation. Read more.
Social worker posted inappropriate comments on Facebook
A social worker was given a conditions of practice order in 2014 by the HCPC for posting comments on Facebook about a child protection court case. Read more.
Nurse struck off for social media posts
In 2016 a mental health nurse was struck off by the Nursing and Midwifery Council for social media posts that "were abusive and could cause offence". Read more.
---
Further information
Social media platforms themselves offer extensive guidance on how to use the sites and how to ensure your privacy settings are appropriate.