Special CPD edition of The Osteopath out now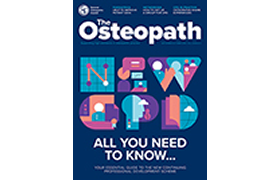 1 October 2018
All you need to know: your essential guide to the new CPD scheme.
The specially redesigned launch issue of The Osteopath (September/October 2018) focuses on the new CPD scheme that starts rolling out from today 1 October 2018.
Key highlights include:
The five main features of the new CPD scheme
New CPD: what you need to know
How to reflect on your CPD
Introduction to Peer Discussion Review
Connecting with others for CPD.
Read all this and more including news updates, research and CPD courses in the new edition at www.gosc.org.uk/theosteopathmagazine