Countdown to new CPD: exploring the benefits of case-based discussions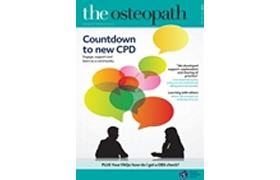 20 June 2017
The latest issue of 'the osteopath' journal is out now.
In this 'Countdown to new CPD' special edition: early adopters try out new methods and talk about the benefits of case-based discussions.
Also in this edition:
CPD: how you are currently reflecting, recording and reviewing
What you need to know about the new CPD scheme
How the PROMs app makes getting patient feedback even easier
Your FAQs: how can I get a DBS check?
Why the GOsC is now a registered charity.
Read all this and more, including new resources available now, book reviews and letters, in the new edition at www.gosc.org.uk/theosteopathjournal