Working with other healthcare professionals can offer a new perspective
David Propert describes how his experience of collaborative working in a multi-disciplinary practice has led to seamless patient referrals and positive working relationships with other health professionals in his local community.
After a number of years running Dolphin Square Osteopaths, I made the decision to open a multi-disciplinary clinic, recognising the value of healthcare professionals working together to provide the best possible care for patients.
The Calmer Clinic developed from my referral network. I identified the most common treatments that I was recommending to patients and invited those relevant practitioners to join the clinic. It is hugely beneficial to have different expertise – both medical and complementary –in one hub. The clinic offers patients a range of different services including osteopathy, physiotherapy, psychotherapy and counselling, life coaching, acupuncture, Reiki, podiatry and nutrition advice.
To achieve the best outcome for patients, we often need to look beyond our 'MSK' domain and explore other aspects of a patient's life such as stress, lifestyle and diet, which could be having a negative impact. To do this successfully, patients need access to different experts and knowledge. Good collaboration with other healthcare professionals involves recognising the limits of our own competencies and understanding our strengths.
I saw the benefits of collaborative working early on in my career when I worked at the Osteopathic Centre for Children in London. This had an open plan environment which was conducive to joint working with other osteopaths with a range of approaches. I created a similar working environment in my clinic by designing a layout with adjacent consulting rooms that makes it easier to have conversations with other practitioners while ensuring patient confidentiality.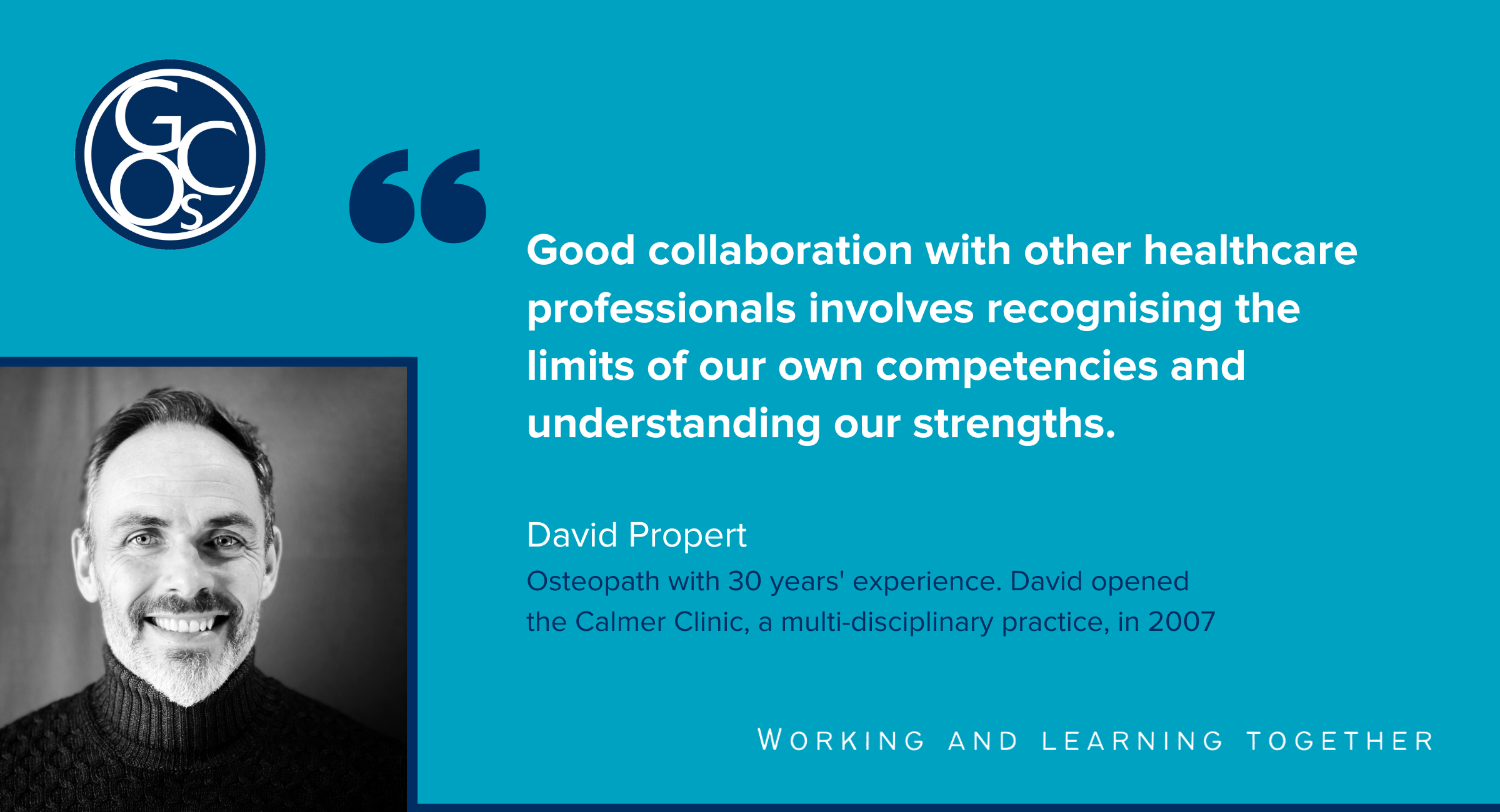 Seamless patient referrals
We have regular case meetings at the clinic which is an opportunity to discuss a patient's condition and diagnosis. This is particularly helpful for more complex cases. Allowing input from other healthcare professionals can often provide a new perspective. If required, we are able to make a seamless referral to another practitioner and provide a direct introduction to the patient.
For example, I recently treated a patient who was feeling very worried about swelling in his feet and legs which he realised might potentially lead to deep vein thrombosis. In this instance, I was able to speak to our podiatrist to get her expert view on the patient's condition and then make an appropriate referral for further treatment with the patient's understanding and consent.
Learning from others
Throughout my career I've learnt a lot from working alongside other healthcare professionals. I worked in collaboration with physiotherapists and chiropractors as part of a support team in the Olympic village polyclinic at London 2012. which provided a fantastic opportunity to learn from other manual therapists, sports doctors and even dentists! We had daily meetings during which we would share learnings and techniques. I learnt about exercise, taping and electrotherapy techniques, as well as cognitive behavioural therapy (CBT) and breathing re-training (such as Buteyko). I subsequently introduced these techniques into the clinic.
A proactive approach
To build relationships with other practitioners you must take a proactive approach. It can be challenging but getting involved in local organisations such as midwife groups, local arthritis support organisations and community education programmes is a helpful way to build links. It's important to establish a rapport and trust early on in the relationship.
I've worked in the same community for many years, so I have been able to nurture good clinical relationships with local GPs. I make a point of writing to thank them for referrals and share with them my examination findings and what I am proposing to do with the patient. I've experienced some barriers, but I've been persistent and taken every opportunity to demonstrate the positive impact of osteopathy on patients. Many GPs have an incomplete understanding of what osteopaths do so I've focused on improving their knowledge by showing them what I do first-hand. Communication is important but it's not just about arm's length letter writing. I've also given talks to local GP groups and invited them to clinic events.
The GP relationship can be extremely beneficial for patients. For example, a patient recently presented with neck pain and unexplained bruising so, with her permission, I got in touch with her GP over the phone to discuss blood tests to find out if there was a possible pathological cause for the bruising. The GP accepted my recommendations and, as a result, identified some underlying health issues. This also resulted in the patient being put forward sooner by the GP for the COVID-19 vaccine as a vulnerable individual.
With all collaborative relationships, it is important to get the communications right. Make suggestions to healthcare professionals, rather than demands, and demonstrate clearly that you want to work together to achieve a better outcome for the patient.
About David
David Propert is an osteopath with 30 years' experience. He opened the Calmer Clinic, a multi-disciplinary practice, in 2007. David was a physiologist before training to be an osteopath, qualifying from the BSO (now UCO) in 1993. David has experience in group community practices in Windsor and London, and has worked in an NHS GP surgery. David now sits on the GOsC Professional Conduct Committee as a registrant member.