Recognising the different strengths and skills of other health professionals
Gabriel Antoni Pineda shares his experience of working with other health professionals as part of a collaborative team to help improve the quality of life for patients.
When different health professionals work together, patients benefit from the breadth of expertise and experience available, this is certainly true of the Sussex MSK Partnership, where I have worked for the past year.
The MSK (musculoskeletal) department is primarily run by physiotherapists, but recently they have opened their doors to osteopaths. The department aims to diagnose MSK conditions and work with patients to reduce pain and improve their quality of life.
I have definitely noticed some differences in our approach as osteopaths to diagnosing a patient's condition and our treatment methods compared to that of the physiotherapists.
It's important to recognise the different strengths and skills of other health professionals, for example: I have found that osteopathic education involves more depth around pathophysiology and the effects on the MSK system, whereas physiotherapists have much more scope and experience in post-surgical rehabilitation. Since joining the department, I've learnt that by understanding our different approaches and specialisms we can provide the best quality care for our patients. Indeed, by working together, we can integrate both of our approaches and expertise into a patient's integrated treatment plan.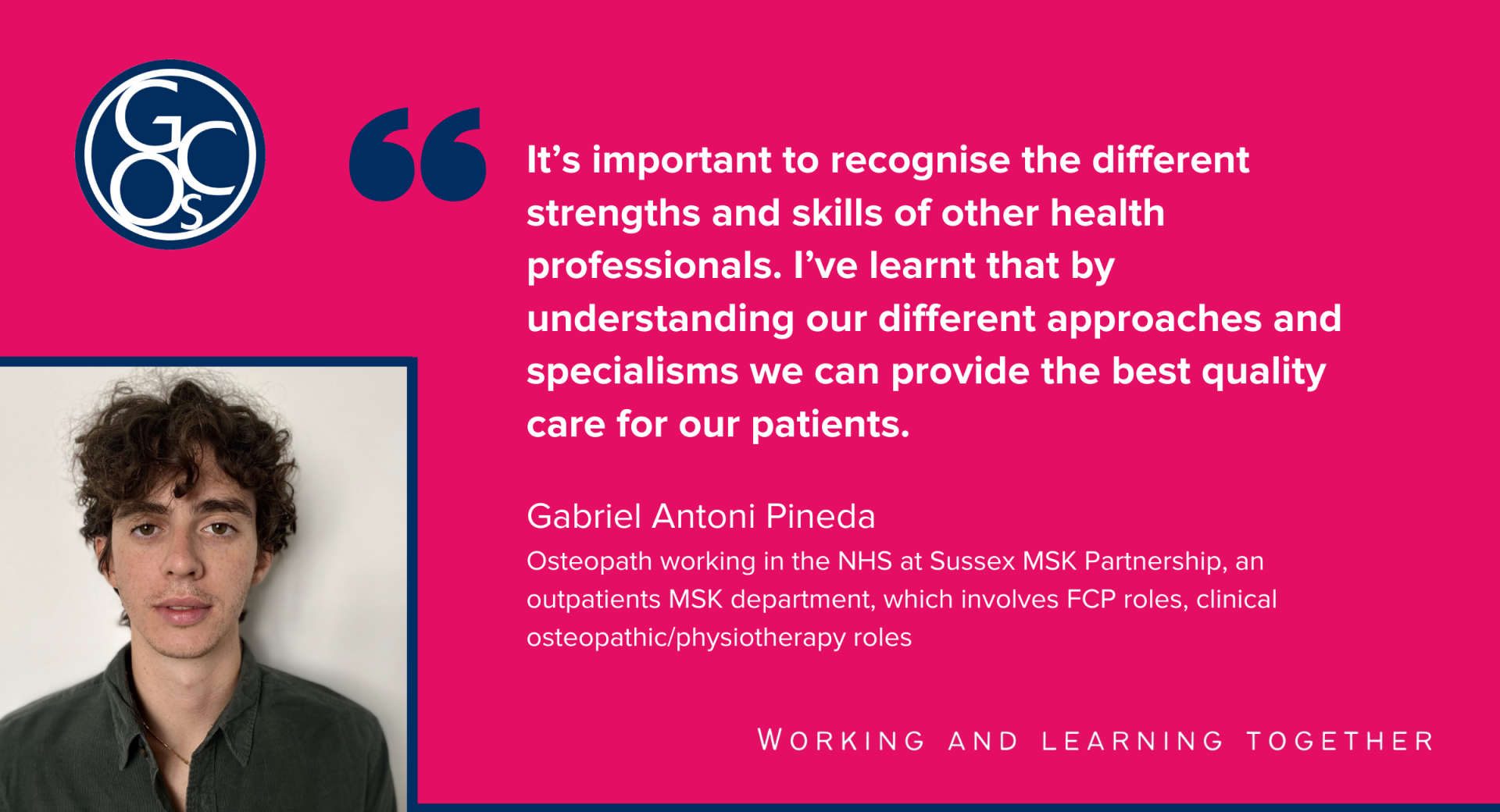 The pandemic created opportunities for wider collaboration
In the middle of the COVID-19 pandemic I was diverted from the MSK department to work in the local Intensive Care Unit (ICU). The unit needed additional support and my skills as an osteopath proved useful in helping with rehabilitation outcomes and goals with the in-patients. I would liaise with the wider healthcare community to discuss the mobility status, medical management, and barriers to recovery. Using my knowledge and expertise to identify factors that could impact on a patient's recovery.
During my time there, it became clear that other healthcare professionals in the ICU did not fully understand the role of an osteopath. Many were surprised by the thoroughness of our training and the depth of our understanding of physiology and pathology and the relationships to MSK. Clinicians would ask questions about different osteopathic approaches and were very open to hearing my advice.
Working in the NHS, particularly across different departments, provides many opportunities to collaborate and therefore many opportunities to learn from others. I see how other healthcare professionals work with patients and how they manage situations. I am able to incorporate these learnings into the way I work. It's incredibly motivating for me to know that this knowledge will have an impact on patient outcomes.
In my opinion, osteopaths are starting to embed themselves into the wider healthcare system. By working with other healthcare professionals, we can improve other people's understanding of our expertise and help to showcase how this can be a benefit to patients.
About Gabriel
Gabriel Antoni Pineda is an osteopath who qualified in 2019 from University College of Osteopathy and currently works in the Sussex community NHS Foundation. He is based at Crawley Hospital, in an outpatients MSK department where there are a number of different roles including: first contact practitioners, clinical osteopaths and physiotherapists, as well as advanced practitioner roles.