Quality Assurance of Osteopathic Education
In order to practise legally as osteopaths in the UK, practitioners must be registered with the GOsC. For graduates of osteopathy training courses to be eligible to apply for registration with the GOsC, the course they take must be recognised by the GOsC.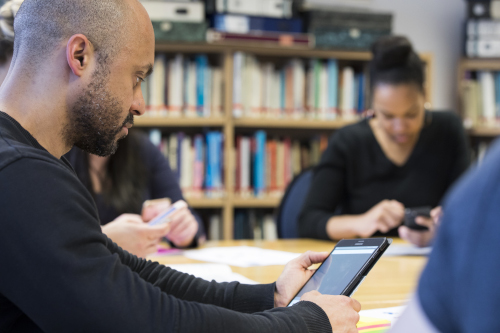 Recognition of osteopathy qualifications
Osteopathic Education and Training
Osteopathic education in the UK is delivered to degree or postgraduate level in educational institutions delivering 'recognised qualifications'. It can be delivered on a full or part time basis across 4 to 6 years and involves academic and clinical training. All osteopathic educational institutions have a dedicated osteopathic clinic for patients. Only graduates with a 'recognised qualification' are entitled to apply to the GOsC for registration to enable them to practise as an osteopath in the UK. (For further information about route to 'recognised qualifications' and registration for graduates with international qualifications please see here.)
Standards for osteopathic education and training
All graduates with osteopathic 'recognised qualifications must meet the Osteopathic Practice Standards. The Graduate Outcomes are designed to help students demonstrate that they meet the Osteopathic Practice Standards before they graduate. The Standards for Education and Training set clear requirements as to the resources, culture and environment within which osteopathic education providers should deliver their education and training programmes. Read the Graduate Outcomes and Standards for Education and Training.
Assuring standards
The GOsC's approach is focussed on ensuring minimum standards and on sharing good practice, working together with osteopathic educational institutions to continue to deliver high quality education and training and safe, good quality osteopathic care for patients.
The GOsC employs a range of mechanisms to ensure that only graduates meeting the Osteopathic Practice Standards are awarded a recognised qualification. These include:
- Regular visits
- Annual Report monitoring (involving external sources of feedback from patients, students and staff and reports from external examiners)
- Mandatory reporting on key changes (including changes to curricula, assessment, key staff changes etc)
- Mechanisms for sharing and sustaining good practice
- Ongoing dialogue between GOsC and osteopathic educational institutions
- Monitoring of conditions or requirements
The GOsC also has extensive powers, set out in legislation, to inspect and to require information from institutions.
Cyclical Visits
Visits to institutions take place every 3 to 6 years depending on the profile of the osteopathic educational institution. The current Handbook for Osteopathic Education Providers and quality assurance visitors is here . It sets out how regular visits to award and maintain 'recognised qualifications' are undertaken. This is currently under review, but includes as annexes, the following:
GOsC Quality Assurance Policy
GOsC Management of Concerns Policy - Procedure for dealing with concerns about osteopathic education
Mott MacDonald support the visit process on behalf of the GOsC. Their interim handbook is published here : 'Visitors' are appointed by the GOsC's Education Committee to inspect institutions and to provide a report.
The previous GOsC-QAA Handbook which is no longer in use is available here.
The Visitors' report is scrutinised by the GOsC's Education Committee before Council decides whether to recognise the qualification. When such a decision has been made, it must be formally ratified and approved by the Privy Council.
Visit reports and action plans for osteopathic educational institutions are available here .
Applying for recognition of a qualification
To apply for the recognition of an osteopathy qualification, please complete and submit the GOsC Initial RQ Application Form. For further information contact the Professional Standards Department on education@osteopathy.org.uk.
Notification of a change to a Recognised Qualification
Educational institutions must inform the GOsC of any change, or proposed change, to a course that would have a potential or actual impact on the delivery of the Osteopathic Practice Standards, maintaining patient safety and public protection. The process an institution should follow is set out in the document Recognised Qualifications: notification of change process and form, and the institution should inform the GOsC of the changes using the form in the document, and send the completed form to the education inbox at education@osteopathy.org.uk.
International students and osteopathic education
In order to enrol students requiring a visa to study in the UK, educational institutions in the UK are required to obtain a Tier 4 licence. Further information for Tier 4 sponsors can be found here.
A list of educational institutions with a Tier 4 licence can be found here
Further information for those wishing to study on a Tier 4 student visa can be found on the UK Government website.
---
Feedback
Did you find the information you were looking for? Let us know at webfeedback@osteopathy.org.uk. Your feedback will help us to improve this website.