Updated Osteopathic Practice Standards now in effect
1 September 2019
The updated Osteopathic Practice Standards (OPS) came into effect today, 1 September 2019, replacing the OPS from 2012.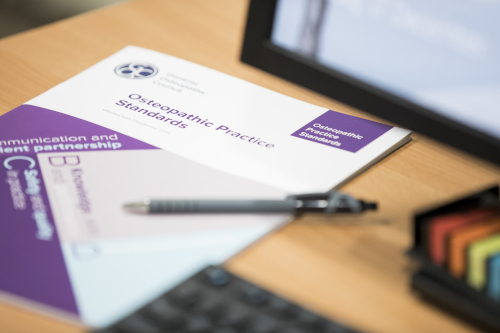 The OPS set out the standards of conduct, ethics and competence required of osteopaths to promote patients' health and wellbeing and protect them from harm. The Standards are central to maintaining public confidence in the profession and its ability to promote patients' health and wellbeing.
Shaped by a process of extensive engagement with a wide range of stakeholders including osteopaths and patients, and a Stakeholder Reference Group which included the Institute of Osteopathy, the National Council for Osteopathic Research and the Osteopathic Alliance, the updated OPS take into consideration developments in health regulation, research, and best practice from other regulators.
The updates also reflect the changing expectations of osteopaths in contemporary practice and major developments which impacted on standards for the osteopathic profession, including the change to the law on consent following the Montgomery Judgment in 2015, and the introduction of a joint regulatory statement on the duty of candour. The OPS also provide further detail on boundaries (emotional and professional as well as sexual).
GOsC Chief Executive, Leonie Milliner, said: "The updated Osteopathic Practice Standards will underpin osteopathic education and registration with the GOsC, supporting the delivery of ethical, competent and safe osteopathic care".
Edited to make them clearer, more accessible and easier to engage with as a framework to support practice, the updated OPS were first published in summer 2018 as, by law, the Standards must be published one year before officially coming into effect.
You can access the Standards, together with the accompanying guidance, quickly and easily online at standards.osteopathy.org.uk.