GOsC Corporate Strategy 2016-2019 published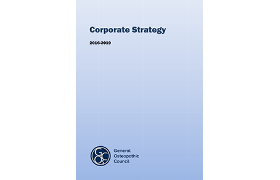 19 April 2016
The latest version of the GOsC's Corporate Strategy sets out what we aim to achieve over the next three years and while much of our activity, such as maintaining the Register and dealing with complaints, remains unchanged, the strategy does set out new areas of work.
These include:
implementing the new CPD scheme;
developing new learning resources for osteopaths on communication and consent and getting feedback on their practice;
reviewing our approach to quality-assuring osteopathic educational institutions;
streamlining our registration assessments of applicants to the Register qualified outside the UK;
reviewing and revising the Osteopathic Practice Standards.
The strategy sets out these goals and activities against three main objectives and explains how we will measure our performance and how assurance is provided that the organisation is operating effectively.
We also reaffirm our commitment to working in partnership with others. To support the new policy initiatives we want to improve how we engage with patients, osteopaths and others, and find new ways of ensuring that everyone affected by our work can have an input to our policy-making.

Read the new Corporate Strategy at http://www.osteopathy.org.uk/news-and-resources/document-library/corporate-plans-schemes-and-policies/corporate-strategy-2016-2019/