New Council Associate welcomed
10 May 2023
GOsC welcomed Laura Turner to Council Associates programme in April 2023 following successful recruitment campaign.
The Council Associates programme aims to identify and develop future governance leaders within the profession who have the potential to develop their skills and knowledge to undertake future non-executive positions, either at the GOsC or elsewhere.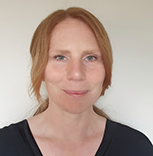 Laura Turner graduated from Plymouth Marjon University in 2022. She is currently working as an associate and has established her own osteopathic clinic in Exeter, Devon.
Laura (pictured) said about her appointment: 'I'm excited to be starting my appointment as a Council Associate and I know that this opportunity will provide invaluable experiences for my personal and professional development. I look forward to learning more about Council's strategic role in the work of GOsC.'
As a Council Associate, Laura will attend GOsC Council four times a year and will be given the opportunity to contribute to meetings and, as a result, towards the strategic direction of the organisation.
The programme was introduced in July 2021 and the first ever Council Associates Shireen Ismail and Harriet Lambert were selected taking up their positions from April 2022. Laura will be taking over from Shireen, whose term came to a close at the end of March 2023.