Reflecting on Convention 2023
Convention 2023 marked 30 years of recognition since the passing of the Osteopaths Act 1993, here Matthew shares his reflections on attending this once in a lifetime event.
As I look back on Convention 2023 - an event which drew together those from within the UK and international osteopathic communities – the following words come to mind:
Friendship
Collaboration
Unity
Connection
Togetherness
Inclusion and belonging
From the official launch on Friday 27 October through to the Saturday evening gala dinner and awards ceremony, I saw a profession which came to listen, engage and discuss the future of osteopathy. I witnessed a profession that knows its history, understands where it has come from and recognises the role it has to play in a future healthcare environment.
My programme highlights
Since joining the GOsC, well over two decades ago now, I have often heard it said that osteopathy is a 'broad community'. And that was in evidence, with the broad range of diverse speakers across the themes – practice, regulation, education and research – that bound Convention together. As delegates, we were spoilt for choice in terms of the sessions to attend and there were plenty of difficult decisions to be made in terms of which to select over others. I enjoyed every session I was able to attend and I particularly wanted to reference Sandie Ennis for her presentation on burnout; and Jerry Draper-Rodi and Yinka Fabusuyi for their reflections on equality, diversity and inclusion in practice.
Catching up with friends old and new
Convention was a time to see old friends and make new acquaintances. And with Convention marking 30 years of recognition since the passing of the Osteopaths Act 1993, it was fitting that the opening speech was delivered by Simon Fielding, who was instrumental in helping the profession achieve its aim of statutory regulation.
Delegates were also treated to keynote lectures from Frank Willard and Renzo Molinari, who with their own distinctive style of communication, held their audiences captive and did what every good speaker aims to achieve – they left their audiences wanting more.
I was delighted to be able to catch up with osteopathic friends who I hadn't seen in many years and some who I have not yet had the pleasure of meeting in person because of the impact of the pandemic - in particular I am thinking of our international colleagues.
An example of this was during the Saturday sessions, where I had the pleasure of being able to share a stage with many eminent colleagues from Europe, Australia, America and Korea as part of an international panel discussion on regulation.
But Convention was not just about the formal sessions, the informal gatherings were of equal value. At the end of the first day I took the opportunity to catch up over coffee with Paul Orrock, Chair of the Osteopathy Board of the Australian Health Practitioner Regulation Agency (AHPRA), Cathy Woodward, Executive Officer, Osteopathy, AHPRA and Matiu Taingahue, Chair of the Osteopathic Council of New Zealand.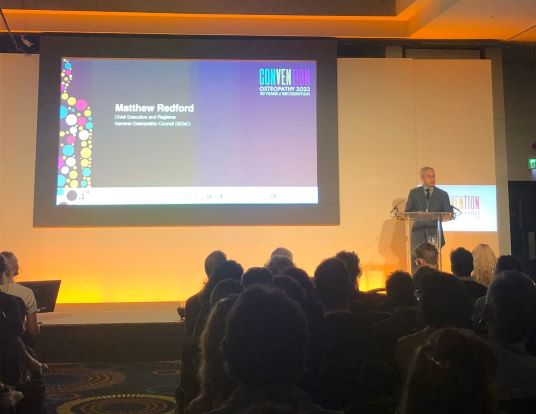 My sessions during Convention
I was privileged to share a stage with Dr John Gimpel, President of the National Board of Osteopathic Medical Examiners, as we shared our thoughts about regulation with those who attended our session, and specifically what that looks like from our respective sides of the pond.
Feedback about the session was very positive and I would like to thank John and the team who worked so hard in the background to make our session run smoothly – Raine, Becki and Andrea, take a bow!
On the same day I was also able to participate in a session run by Glynis Fox, President of the professional membership body the Institute of Osteopathy, on mentoring. I do hope my requested demonstration of 'bad mentoring' was not captured on camera!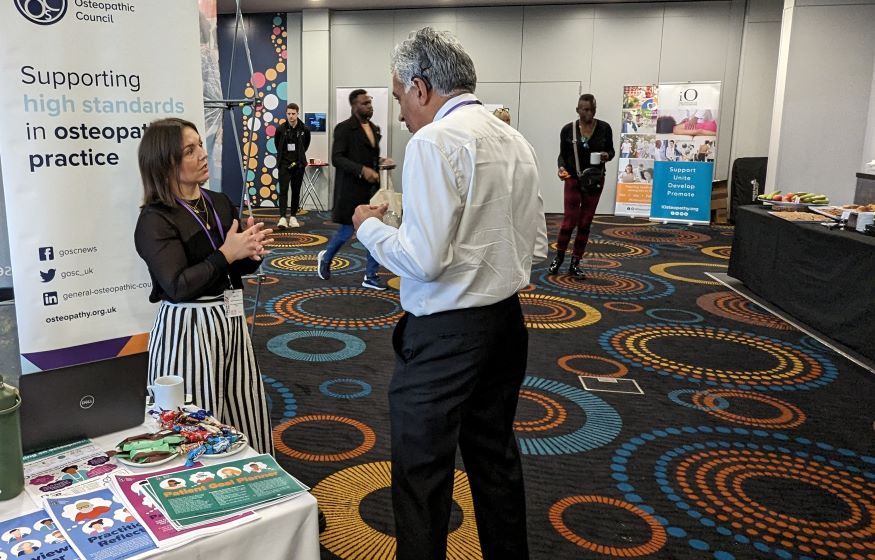 Successes and collaborations
I've mentioned that Convention was an international event marking 30 years of recognition, to that end I am incredibly proud that the GOsC was able to contribute as a joint partner. We have a lot to be proud about and it was an honour for me to be at Convention with members of my team and members of Council. My thanks to Liz and Stacey from the Communications team for being at the GOsC stand talking to osteopaths, answering questions and generally engaging with the profession . Also a huge well done to Fiona, I have heard good things about the interactive session on professionalism that Fiona ran.
I was pleased to be able to welcome some former colleagues to Convention, which gave us the opportunity to thank them for their past endeavours. I was delighted that Madeleine Craggs, our first Chief Executive and Registrar was able to attend, alongside Gillian Sellars, our first Head of Registration. We were also able to welcome back Tim Walker, former Chief Executive and Registrar and Nigel Clarke, who succeeded Simon Fielding as Chair of the GOsC.
And finally, a word about our friends at the Institute of Osteopathy. There are too many people to name individually, so I apologise in advance to those I don't mention specifically, but being able to collaborate and work alongside Maurice Cheng, Glynis Fox, Katie Griffiths and Georgina Leelodharry in the build up to this event was a pleasure. Convention 2023 was a huge success and their hard work played a very significant part in that.
Hear more about this from Matthew speaking at Convention in the short video below: