News
FEATURED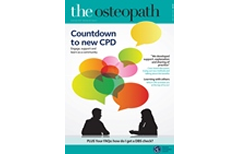 20 June 2017
The latest issue of 'the osteopath' journal is out now.
16 June 2017
A review by the Professional Standards Authority (PSA) – the body responsible for monitoring the performance of UK healthcare professional regulators – has found that the General Osteopathic Council (GOsC) has for seven years running met all the PSA's Standards of Good Regulation.

5 June 2017
The agenda includes the draft updated Osteopathic Practice Standards and the draft hearings and sanctions guidance.