Witness guidance
Maintaining patient safety and public confidence in the osteopathic profession means that we must investigate and consider complaints about osteopaths' conduct, competence or health.
To do this we rely on patients and members of the public to tell us if they have concerns about a registered osteopath. The role of witnesses is vital in this process.
We have produced an introductory video and leaflet to explain what happens before, during and after a hearing, to help witnesses to give their best evidence.
Click on the following video link or download the leaflet below to find out more.
Watch our video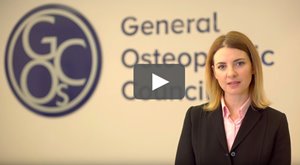 The video helps you also to familiarise with the hearing venue. You will see our reception area, the layout of the hearing room, and where you will sit to give your evidence.
Read our leaflet

Mae'r daflen hon ar gael yn Gymraeg.
Further information and support
For any questions about giving evidence, about the hearing process or if you would like to visit our offices ahead of a hearing, please contact a member of our regulation team by email on shagon@osteopathy.org.uk or call 020 7357 6655 x224.
Feedback
Did you find what you wanted today? Let us know at regulation@osteopathy.org.uk. Your feedback will help us to improve this website.