Leonie Milliner appointed as the next GOsC Chief Executive and Registrar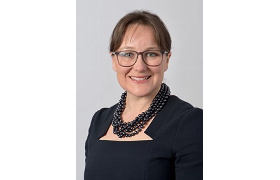 19 November 2018
The General Osteopathic Council (GOsC) has today announced that Leonie Milliner will take over as Chief Executive and Registrar when Tim Walker stands down at the end of February 2019.
Leonie is currently the Chief Executive of the Association for Nutrition where she has been responsible for leading professional regulation for registered nutritionists. Leonie has also previously worked for the Royal Institute of British Architects and has extensive experience and knowledge of the education sector.
Alison J White, GOsC Chair, said, "We are delighted to appoint Leonie Milliner as our next Chief Executive and Registrar following a recruitment campaign which involved many of our stakeholders.
"Leonie will bring energy and creativity of thought to the role which Council feels is critical at the outset of its next Corporate Plan.
"I would also like to thank Tim Walker for his tremendous work at the GOsC over the past eight years. His leadership of the GOsC has led to increased patient safety and public protection, and also the development of the osteopathic profession through raising standards and collaborative work."
Leonie Milliner said, "I am delighted to be joining the General Osteopathic Council.
It will be a huge privilege to serve as Chief Executive and Registrar at a time of enormous challenge and change for regulated health professionals.
"I look forward to bringing my experience in the regulation of registered nutritionists to the GOsC for the benefit of both patients and the public, and to working with a team of committed and expert colleagues, taking forward the work of the current Chief Executive and Registrar, Tim Walker."
Leonie will take up her post in March 2019.