New CPD scheme
We are developing a new continuing professional development (CPD) scheme for the osteopathic profession, which will give the public reassurance that osteopaths' knowledge and skills are up to date and they are fit to practise.
For details of our current CPD scheme, see the Standards for continuing professional development page.
Watch Tim Walker, GOsC Chief Executive, outlining the proposed CPD scheme; click on the image to play the video.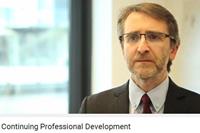 Our proposals build on the current CPD scheme, and on what most osteopaths are already doing. They are based around a three-year 'cycle' of CPD, during which – as now – osteopaths will need to undertake 30 hours of CPD per year (of which at least 15 hours must involve learning with others).

Additionally, osteopaths will have to meet the following requirements:
During each three-year cycle, every osteopath's CPD will need to include activities relevant to all four themes of the Osteopathic Practice Standards: communication and patient partnership; knowledge, skills and performance; safety and quality in practice; and professionalism.
There will need to be at least one activity focusing on communication and consent in every three-year cycle.
Every osteopath will need to undertake an 'objective activity' seeking feedback on their practice (through, for example, a patient questionnaire, a practice audit, or discussions with colleagues) at the start of each cycle.
Towards the end of the three-year cycle, every osteopath will undertake a 'Peer Discussion Review' – a structured formal discussion with a reviewer of their choice, in which they will discuss their CPD and practice, and show that they have complied with the scheme's requirements during the cycle.
A group of early adopters started on the new CPD scheme, on a voluntary basis, in November 2016. In spring 2017 we will announce the start date of the scheme for all osteopaths.
Further details about the scheme
Click on the headings to read more.
The Draft CPD Guidelines explain how the proposed new CPD scheme would work and are aimed at supporting osteopaths to meet CPD requirements.

The Draft Peer Discussion Review Guidelines outline the requirements for the peer discussion review that every osteopath will undertake in every three-year cycle.

To help osteopaths meet the requirements of the proposed new CPD scheme, we have produced draft resources, including real case studies.

Questions that have been put to us about the new scheme, and our answers to them.